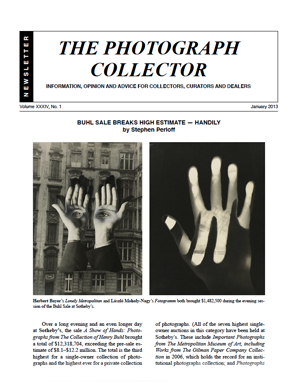 The Photograph Collector, Volume XXXIV, No. 1 (January 2013)
Since 1980, collectors, curators and dealers have relied on The Photograph Collector monthly newsletter. Readers who need to know what's happening in all aspects of the market for collectible photographs turn to us for analysis, facts, and candid advice, news from dealers and galleries, upcoming auctions and trade fairs and symposiums, and more.
This—and only this—publication gives you the wealth of information you need to keep up-to-date about the fast-changing photography art market:
analysis and candid advice

previews of the upcoming auctions 

reports on the ones that just passed

profiles of important collectors and dealers

news about dealers, galleries, and museums

listings of fairs, symposiums, and limited editions

curated listings of notable exhibitions
and
the most complete listing of photography auctions worldwide to be found anywhere
Sign up today! A subscription to The Photograph Collector—at only $149.95 a year—brings the intriguing world of the photography art market to you monthly, delivered by email as a pdf in full color with convenient live links.
PAST COVERAGE IN THE PHOTOGRAPH COLLECTOR
Reports on some of the major auctions in the history of the medium, including:
The Collection of Marie-Thèrése and André Jammes, 2002
Important Photographs from The Metropolitan Museum of Art, Including Works from the Gilman Paper Company Collection, 2006
and 175 Masterworks to Celebrate 175 Years of Photography, 2014
Major issues of fraud and authentication in photography:
In 1998, we broke the story that the Helene Anderson Collection, auctioned in what pundits were dubbing "the sale of the century" by Sotheby's London in May 1997, was not assembled by Anderson, leading some to believe it might have been stolen.
From 1999–2001, we published the most extensive investigative reports on the sale of hundreds of Lewis Hine prints that were purported to be lifetime prints but turned out to be fraudulently produced later prints.
Important galleries, photography initiatives, and fairs:
Al Gilens experiences an appointment at Pier 24 in San Francisco (Sept. 2014 Issue)
The Oregon Center for the Photographic Arts' opening of Blue Sky Books for its 40th anniversary (Oct. 2014 Issue)
Exhibitors' responses to a questionnaire regarding their sales at AIPAD (June 2014 Issue)