By Georgia Smith, Assistant Editor of The Photo Review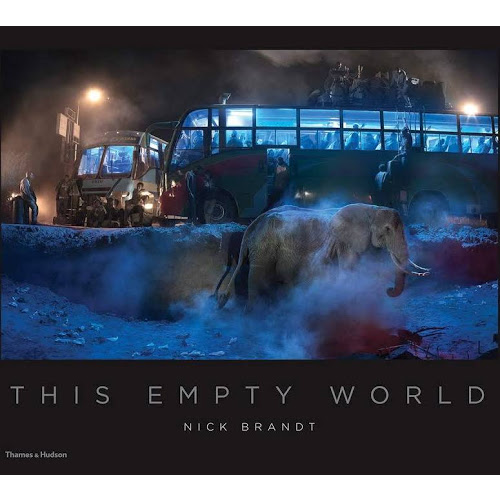 This Empty World. By Nick Brandt (New York: Thames & Hudson, 2019), $65.00, hb.
Nick Brandt has photographed exclusively in Africa since 2001. His latest project takes place on local Massai community land in Kenya, not far from Amboseli National Park — a rare place where humans and animals live alongside one another. This Empty World is a photographic masterpiece, symbolizing the destruction of the natural world and what this means for those of us inhabiting it. Brandt's images consist of two rounds of composition, captured weeks apart by the same locked off camera position. The first begins with an animal in its natural habitat. This process is nothing more than a waiting game, which can take weeks or months for the animal to enter the frame. Once the first image is captured on camera, Brandt and his team then build sets, including gas stations, highways, and construction sites, in addition to casts of people from local communities, in the exact location in which the animal was initially photographed. The results illustrate a world where animals have lost their natural habitat to the marks of humans.
Nick's images are cinematic and emotional, highlighting the growing reality of a competition for resources. "The damnation of animal life, the debasement of human life, the destructive conjugality between the two: it is not just the animals who are the victims of environmental devastation, but also the humans now inhabiting these landscapes," says Brandt. With highly crafted images on a panoramic scale, the book is a testament to our current and ongoing environmental disparity — based on scientific evidence — that must be taken seriously if we want to save our planet.
This Empty World has been exhibited at the Waddington Custot Gallery in London (February 7 – March 7, 2019), Edwynn Houk Gallery in New York, NY (February 22 – April 20, 2019), Fahey/Klein Gallery in Los Angeles, CA (March 1 – April 27, 2019), and at the Atlas Gallery Stand at Photo London (May 16 – May 19, 2019). Future exhibition dates and locations include a museum TBA in New York, NY (November 14 – end of January 2020) and Museum Casa Dei Tre Oci in Venice, Italy (March – August 2021, exact dates TBD).
Click here for more information and photos.